This post is sponsored by Sivan Social. All comments and opinions are my own.
I've had a love for Baby Magic since I helped give my baby sister baths when I was 12 years old. The scent was just so wonderful, and I've always attributed that scent to babies. When I started having children of my own, Baby Magic is the brand that I turned to for their bathtime care, and I encourage you to try it to with the printable baby magic coupon for $1 off any product. Just click the coupon image below to print from your home computer.
Baby Magic has an entire line of products, inclusing baby lotion, baby bath, body wash, bany oil, and so much more. Their line includes different collections like Calming, Original, and Moisturizing. My favorite is the Calming to use with my granddaughter, and as you can see, she loves it too! This line is especially great for bathtime before bed, as it helps to soothe and relax her for a good night's rest. The wonderful scent of lavender and chamomile just fill the room, and make her smell wonderful too!
Baby Magic has been around for over 65 years, so it's no wonder that parents (and grandparents) like me love the brand. Their wholesome ingredients nourish baby's skin, while being free of harmful parabens, phthalates, sulfates & dyes. In fact, Dermotologists reccomend Baby Magic for baby's delicate skin. You can purchase Baby Magic products at Amazon.com.
In addition to the printable coupon that I shared above, Baby Magic is sending select households an additional $1 off Baby Magic coupon in their Valpak envelopes. Make sure you open that Valpak envelope to see if your coupon is inside!
Savings.com's #LoveWithBabyMagic giveaway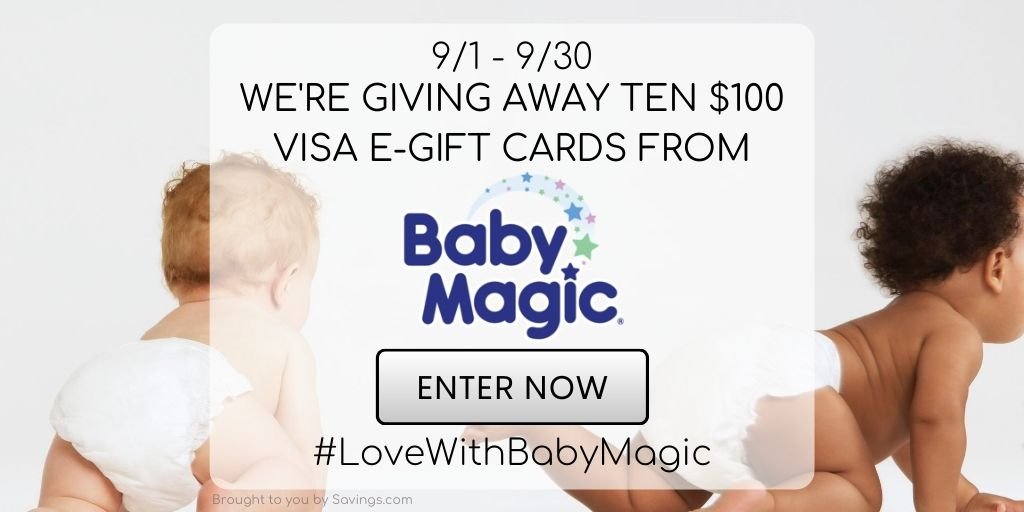 How would you like to win a $100 Visa e-gift card? Savings.com is giving 10 of them away on behalf of Baby Magic, and you could be one of the lucky winners if you enter the giveaway today! This contest started on September 1st, and will run through Wednesday, September 30th at 11:59 PM PT.