I received Spider-Man: Far From Home Science Activities for this feature. Opinions expressed are my own.
The billion dollar blockbuster, SPIDER-MAN: FAR FROM HOME, comes home on Digital September and on 4K Ultra HD Combo Pack, Blu-ray Combo Pack, and DVD from Sony Pictures Home Entertainment. From Spider-Man: Homecoming Director, Jon Watts, comes a global adventure for everyone. SPIDER-MAN: FAR FROM HOME is now the biggest Spider-Man film of all time!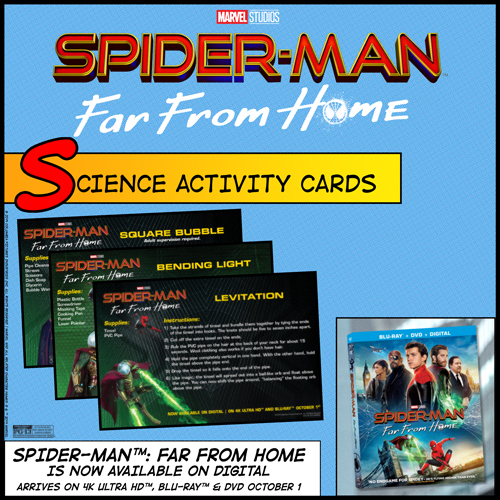 Master the mysterious by trying out these awesome Spider-Man: Far From Home science activities! Download the instructions now at http://bit.ly/SpiderManFFHScienceActivities
Here is Big Sis getting in on the science action!
Her favorite was the bending light activity!
As the water comes out of the bottle the light from the laser pointer bends with the water flow. I promise this activity really works and everyone in the family wanted to give it a try! Many of these activities can be done with household items and is perfect for some family fun!
For a full review of the movie check out my previous blog review HERE. SPIDER-MAN: FAR FROM HOME is now available on Digital! On 4K Ultra HD™, Blu-ray™ & DVD and is perfect to add to any home Marvel movie collection!
Connect: You can connect with Spider-Man Movie on Facebook, Instagram and Twitter.