In an effort to live a healthier lifestyle, Lil Man and I have started eating better and exercising more. We're also going on walks around the neighborhood so that he can get his steps in each week for his online gym class that he's taking to earn extra credits for this school year. Of course, we wanted to find the most accurate fitness tracker for him, since it's important for every step to count. I've partnered with Healbe for this post, though all opinions are my own.
The Healbe GoBe2?is a new revolution in fitness trackers and is the only complete smart-life band. Not only does it track your steps, it also has unique features like water balance management, the ability to track your calorie intake and it can also monitor your emotional state.?You can achieve weight loss goals thanks to great features like:
Energy balance
Calorie Intake
Calorie Burned
Water Balance
Sleep Quality
Heart Rate
Emotional State
Stress level
Steps & Distance
You can get to know your body better through?the Healbe GoBe2 FLOW Technology which helps you perform at your best by using your body's own information.? Check out this video below to learn even more about?Healbe GoBe2.
We're really impressed with?GoBe2 because so much more than just a fitness tracker and offers so many great features to help
Lil Man
?achieve the healthier lifestyle that we are aiming towards. He really likes its sleek black look, but if you're looking to add a little color into your life, you can add add a colorful strap to your?GoBe2.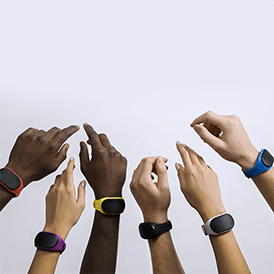 Healbe GoBe2 works with most health apps and also has its own web and mobile apps. You can purchase the Healbe GoBe2 on Amazon.com and get a 10% discount by using code outnumbered3to1 at checkout. Download the Healbe GoBe app on Google Play or in the App Store.