I received a sample for this review/feature. Opinions expressed are my own.
Follow?Vampirina?and her two best friends, Poppy and Bridget, as they take the stage and start their very own band: the Ghoul Girls!? Cheer them on as they travel to Transylvania for their first-ever talent competition and go on many more awesome adventures! Amped with six music-filled episodes, plus seven bonus animated shorts,?Vampirina: Ghoul Girls Rock!?soars to fang-tastic new heights as Vee and her friends learn how to find their inner ghoul and rock out!?Vampirina: Ghoul Girls Rock! arrives homes on Disney DVD November 6th.
Voice Cast: Isabella Crovetti?as?Vampirina;?Lauren Graham?as Oxana Hauntley;?James Van Der Beek?as Boris Hauntley;?Wanda Sykes?as Gregoria;?Mitchell Whitfield?as Demi; Jordan Alexa Davis?as Poppy;?ViviAnn Yee as Bridget; and?Dee Bradley Baker?as Wolfie.
Executive Producer: Chris Nee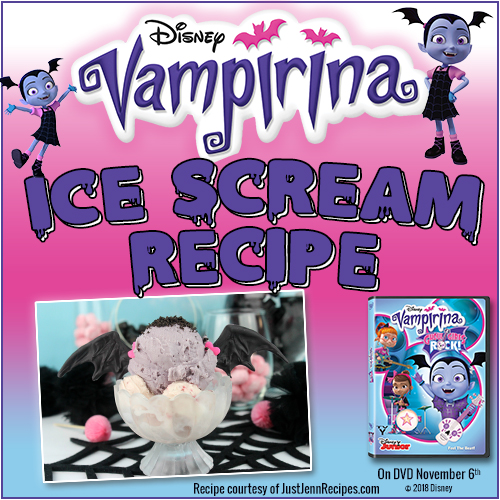 Episodes:?
Vampire Weekend / The Bird Who Knew Too Much
The Ghoul Girls / Game Night
Oldie But a Ghouldie / Beast in Show

Vampirina

?

Ballerina / Treasure Haunters
Home Scream Home
Countess Vee / Frights, Camera, Action!
Bonus:

Vampirina?Ghoul Girls Rock! Music Video Shorts:
Living the Scream
Inner Ghoul
Transylvania Girls
Ghoul Glam
Boogieman Boogie
Everybody Scream, Everybody Howl
The Mummy Rap
Total Run Time: Approximately 132 minutes
If you have a preschool aged girl at home then you should be watching Vampirina! Vampirina is a cute little girl that just happens to be a vampire. In this DVD you see her form a band with her two best friends who happen to be humans. The songs are fun and I have even caught my older two daughters (aged 7 and 10) watching this DVD and singing along with the songs (but don't let them know I outed them for being Vampirina lovers). This is the hot new show that all the preschoolers are watching so I highly suggest getting this DVD to see what the show is all about!