For all you Star Wars fans in preparation for Solo: A Star Wars Story, which will be available on Blu-ray 4K Ultra HD, Blu-ray, DVD and On-Demand on September 25th, I give you Millennium Falcon Burgers & Han's "Dice-d" Potatoes recipes!
Download these delicious recipes for Millennium Falcon Burgers and Han Solo's Dice-d Potatoes and whip up a batch for your friends & family! Since we are a Star Wars family I hope to make these this coming week! I am sure my kids will like them but it is really all for me!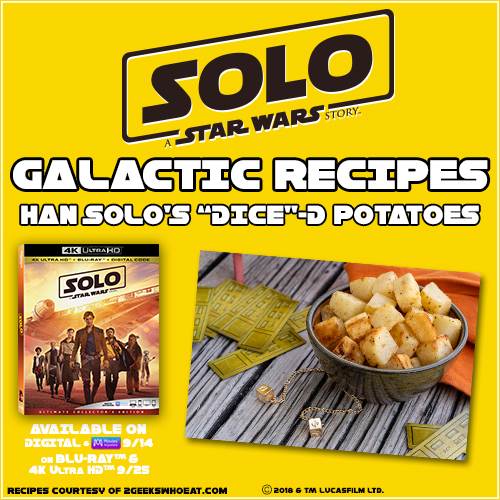 If you have not seen Solo: A Star Wars Story yet then you are missing out! I was blown away with how good it was and now I can't wait to see it from the comforts of home! SPOILER ALERT: you get to see how Hon and Chewbacca meet and become friends! A movie full of non-stop action! Next week I will write up a blog post that lists all the bonus features included on the Blu-ray copy! Until you can enjoy the film you can be entertained with some themed food perfect for Star Wars fanatics!