I received a sample for this review/feature. Opinions expressed are my own.
Marvel Studios? ?Black Panther,? the highly celebrated story of T?Challa (Chadwick Boseman), a young African prince who takes on the mantle of King and Super Hero, has thrilled and inspired generations of moviegoers around the globe. Now, fans can bring home the phenomenon, packed with light-hearted fun, pulse-pounding action and a powerful message, and watch it over and over again, Digitally in HD and 4K Ultra HD? and Movies Anywhere on May 8th and on 4K Ultra HD?, Blu-ray?, DVD and On-Demand on May 15th.
The film features a fierce group of Wakandan women, including Nakia (Academy Award? winner Lupita Nyong?o), a War Dog and Wakandan spy; Shuri (Letitia Wright), T?Challa's little sister and tech wizard; and the Dora Milaje, the all-female Wakandan Special Forces led by Okoye (Danai Gurira). They team up with reluctant ally CIA agent Everett K. Ross (Martin Freeman) to help T?Challa defend Wakanda against the forces threatening to destroy it. The extraordinary ensemble cast of ?Black Panther? also includes veteran actors such as Academy Award? nominee Angela Bassett as Ramonda, T?Challa and Shuri's mother; Academy Award? winner Forest Whitaker as Zuri, the spiritual leader of Wakanda; and Andy Serkis as Ulysses Klaue, an illegal arms dealer; and standout performances by Academy Award? nominee Daniel Kaluuya as W?Kabi, Royal Counsel to T?Challa; Winston Duke as M?Baku, the formidable leader of the Jabari tribe; and Emmy? Award-winner Sterling K. Brown as N?Jobu, a Wakandan War Dog.
Check out this Black Panther: Inspired by Africa Bonus Clip.
BONUS MATERIAL (may vary by retailer):
Blu-ray:
Director's Intro
From Page to Screen: A Roundtable Discussion – Delve into the film's making
Crowning of a New King ? Explore the world of ?Black Panther? in all its color and complexity
The Warriors Within ? Get to know Wakanda's women and the actors who portray them
The Hidden Kingdom Revealed ? Wakanda's diverse people
Wakanda Revealed: Exploring the Technology
Deleted Scenes

U.N. Meet and Greet
Okoye And W?Kabi Discuss the Future of Wakanda
T?Challa Remembers His Father
Voices from the Past

Gag Reel
Exclusive Sneak Peek at ?Ant-Man and The Wasp?
Marvel Studios the First Ten Years: Connecting the Universe
Director's Commentary
Digital Exclusives:
o?? In World Wakanda Tourism Ads
Come to Wakanda Before
Come to Wakanda After
Black Panther is packaged several ways to ensure fans get the most out of their in-home viewing experience.?The Multiscreen Edition (formerly the Blu-ray Combo Pack) includes Blu-ray, and a Digital Copy, giving viewers the flexibility to watch the film on different devices. Those with 4K Ultra HD capability may opt for a 4K UHD Collector's Edition, including 4K Ultra HD disc with Dolby Vision and Dolby Atmos, Blu-ray disc, and a digital copy (where available). Dolby Vision delivers greater brightness and contrast, as well as a fuller palette of rich colors. Dolby Atmos places and moves audio anywhere in the room, including overhead. Together on 4K Ultra HD Blu-ray disc, viewers will fully experience the sights and sounds of Wakanda.
Feature Run Time: Approximately 134 minutes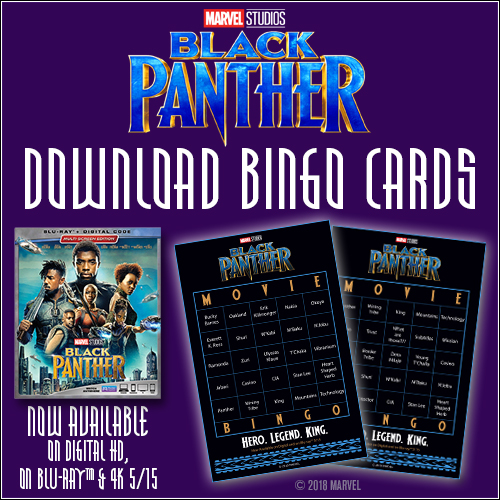 I did not know much about the character Black Panther before watching this movie so I had no expectations in what I would see. With that said I absolutely loved this movie and I thought it fit perfectly into the Marvel cinematic universe. T?Challa is the super hero Black Panther who is also a prince that becomes king once his father dies. In his village of Wakanda there is a long kept secret of the vibranium, a fictional metal, that is harvested there. For those that remember Captain America's shield is made from vibranium. The Wakandans use the vibranium to develop advanced technology and isolate themselves from the world by hiding in plain sight behind the jungle canopy. A problem arises when someone challenges T?Challa to the thrown as the challenger wants to be king and Black Panther to use the technology to take over the world. Stick around for the mid-credits scene and a post-credits scene for some insight into future Marvel movies. Black Panther is a MUST-SEE for fans of the Marvel Cinematic Universe!