I received a sample for this review/feature. Opinions expressed are my own.
Disney's adventure The Lion Guard continues with Simba and Nala's (from the classic The Lion King) second-born cub, Kion, and his Lion Guard team as they protect the Circle of Life! This new DVD, features five new episodes and is packed with laughs, music, beloved characters and heart! The Lion Guard is a must-see for the entire family if you have a preschooler at home! Here is some information on the latest DVD as well as info on some great toys fans of The Lion Guard will love!
Rough, tough and roarin? to go, your favorite heroes are back for more epic adventures in The Lion Guard, the animated series that continues the storytelling of Disney's The Lion King.

Join Kion and his diverse group of friends as they celebrate unity within the Circle of Life and protect the Pride Lands in five action-packed episodes also featuring Simba, the spirit of Mufasa and the hilarious antics of Timon and Pumbaa.? You?ll go wild for all the ferocious fun, because whether the Lion Guard team is tracking a rogue leopard, foiling tricky jackals or facing stubborn crocodiles, Life In The Pride Lands is always ?hevi kabisa? ? totally intense!
Episodes:?
The Rise of Makuu (featuring guest star Blair Underwood as the voice of Makuu)
The Kaputana Celebration
Bunga and the King
Never Roar Again
The Imaginary Okapi
Bonus: Music Videos:?
A Trail to Hope
Teke Ruka Teleza
?It's UnBungalievable!? Shorts
Who's Quicker?
Who's Hungrier?
Who Has Better Hair?
Who's Cuter?
Who's Louder?
Who's Mightier?
Feature Run Time: Approx. 110 mins.
Here are some awesome toys all from The Lion Guard! My preschooler loves them so they are really great for that age range.
First Look and Find Books were Lil Sis' favorite first books. She would want me to read them out loud over and over again for her to find the hidden pics. She still loves them and is super excited The Lion Guard now has one.
I keep finding the figurines in the sandbox or in grass as she keeps wanting to play with them in their "habitat." That girls always makes me laugh!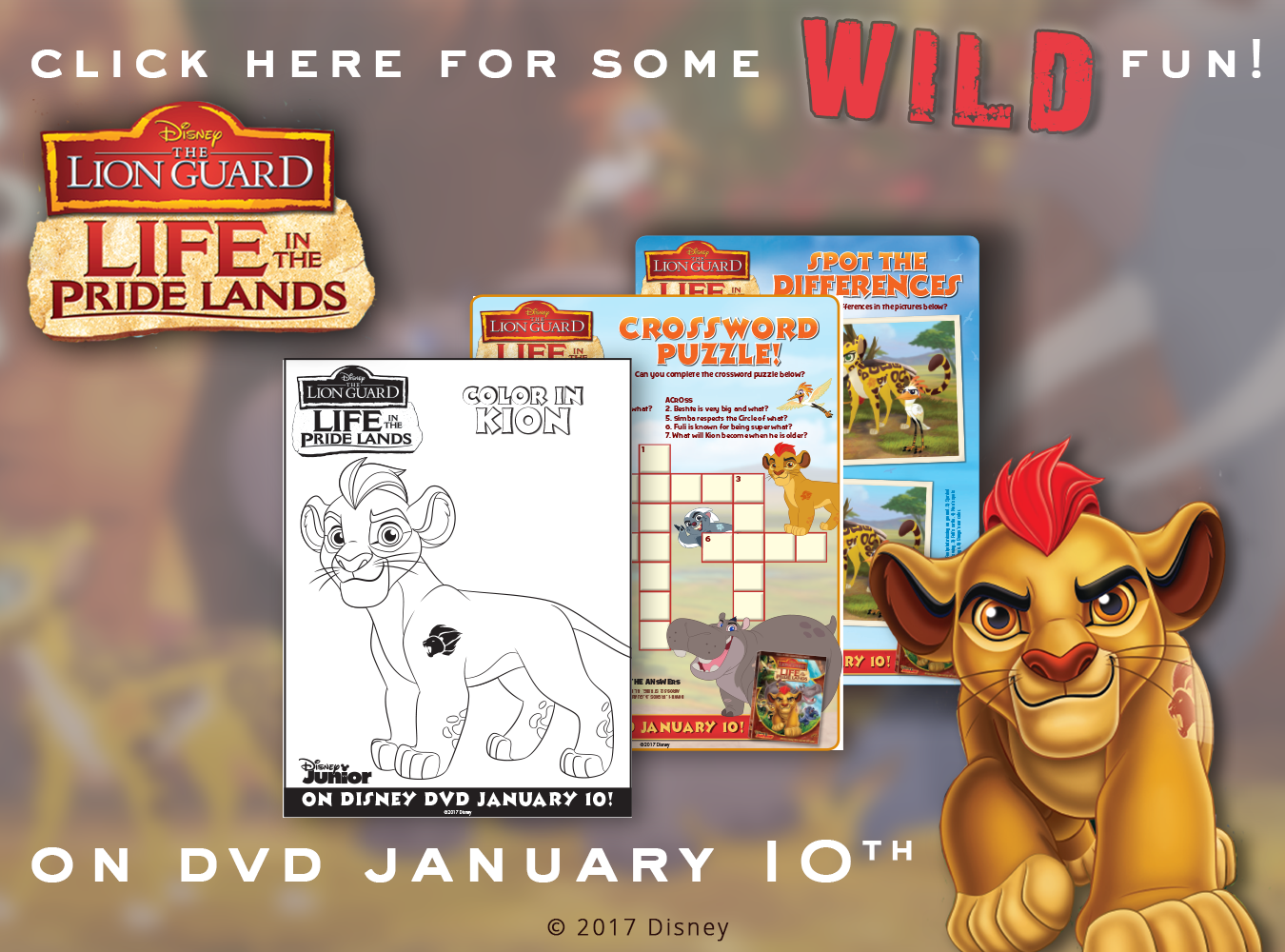 This is one of those shows that everyone in my family enjoys watching?.that includes my 5 and 8 year old daughters and my husband. It is fun to see the world of ?The Lion King? continue and the stories are interesting and enjoyable to watch. This DVD is full of some of the best episodes from the show yet! I especially enjoy The Kaputana Celebration. The Bonus features are a nice touch with my girls loving the music videos. A great addition to any preschooler's DVD collection!
Connect: You can connect with Disney Junior on Facebook and @DisneyJunior on Twitter.
Save
Save
Save
Save
Save
Save
Save