I received compensation for this review/feature. This post contains affiliate links. Opinions expressed are my own.
Nothing gets me going like a good cup of coffee in the morning. While I love a premium cup of coffee, it's a treat for me to get it from the coffee shop because it's always so expensive. Now with the new line of premium coffee from?ALDI, Barissimo, I can have premium coffee at an affordable price that I can make in my own home.
Here are some of my top picks for coffee lovers!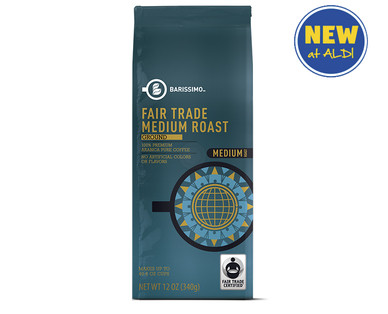 ALDI has rolled out its new Barissimo
?
premium coffee products. A number of Beaumont Coffee products have transitioned to the new Barissimo
?
brand early this year. Product taste and pricing remain the same and I have to admit they taste amazing. The line features nine bagged and single cup coffee items,?
along with additional seasonal and Special Buy items that will be available for a limited time.
The following items are now sold under the Barissimo brand:
Ready-to-drink Iced Coffees (French Vanilla, Mocha and Coffee) - $1.19

Whole Bean Coffee (Morning Roast and Donut Store) - $3.99

Fair Trade Coffee (Medium and Dark Roast) - $3.99

Donut Store Ground Coffee - $3.99

12 oz. Bag Coffee (Breakfast Blend, House Blend, and French Roast) - $3.99

Assorted Flavored Coffee (French Vanilla and Hazelnut) - $4.99

Flavored Coffee Cups (French Vanilla and Hazelnut) - $4.79

Regular Roast Coffee Cups (Breakfast and Donut) - $4.79

Specialty Roast Coffee Cups (Fair Trade Colombian and Dark Roast) - $4.79
Prices subject to change and may vary by store location.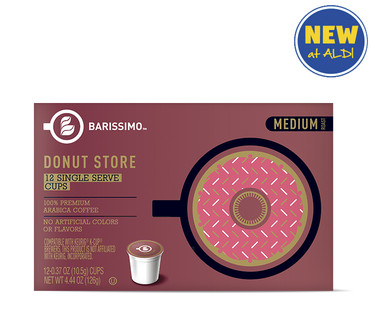 I absolutely love the Donut Store single store cups for myself every morning. For an afternoon pick-me-up, their iced coffees are the perfect treat and give a little caffeine boost that I need to get through the rest of the day. With so many flavors and options, there's a coffee for everyone. The new premium line of Barissimo coffee is available at an ALDI near you.?
Winner: Allison S.