I received a gift card and party pack from NBC and Walmart for this feature. Opinions expressed are my own.
Peter Pan is one of my favorite tales of all time. What kid doesn't want to live in a world where they never have to grow up? NBC is bringing this timeless classic to life as Peter Pan Live! this Thursday, December 4 at 8pm EST as a live broadway musical that I know is going to be spectacular.?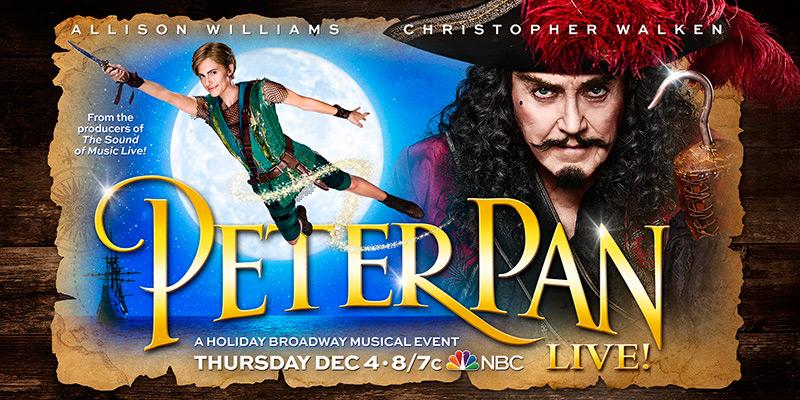 From the producers of The Sound of Music Live! – which drew over 18 million viewers – comes a musical event about the story of the young boy, Peter Pan, who refused to grow up and went off to Neverland. With a star studded cast including Christopher Walken as Captain Hook, Allison Williams as Peter Pan, and Minnie Driver as adult Wendy Darling, Peter Pan Live! is sure to be the biggest television and musical event this holiday season.
This Thursday I'll be hosting a viewing party at my house with my family. We're all ready to go with Peter Pan hats, swords, and even a hook, as well as with some good food, too. I made sure to hit up my local Walmart to stock up on some treats to enjoy while we're watching Peter Pan Live!
I'm planning to make star shaped chicken nuggets, so we can follow the first star to the right and straight on till morning to get to Neverland, as well as some other fun Peter Pan themed appetizers and desserts to help make our evening even more fun and magical. I'll be live tweeting during the show, so be sure to follow me to see all of the fun we're having while watching Peter Pan Live!
I hope you'll be tuning in to NBC this Thursday, December 4 at 8/7pm for this musical masterpiece that is sure to win over the heart of every kid and adult who just don't want to grow up.