I received a sample for this feature. Opinions expressed are my own.
Super Impulse has made a name for themselves in the toy industry for having innovative toys, novelties, and accessories that are AWESOME! They offer a HUGE selection of licensed and non-licensed products designed to elicit smiles from toy lovers of all ages. Their products span both classic and trend-forward, from toys that adults had as kids, to items that kids will remember as adults.
More of the world's MOST POPULAR and most CLASSIC toys are back in their smallest sizes ever! Super Impulse is growing its World's Smallest collection to include more iconic retro brands in tiny working versions. These toys are retro throwbacks for grownups and the perfect collectible for kids!
Their Tiny Arcade lineup is a HUGE favorite of mine because I am a gamer that grew up in the 80s. Some of the most famous classic arcade games are back…in full working keychain versions! My childhood self would not be able to believe it! It is just like the original….but can fit in my purse!!!
The screen size is less than 1.5 inches and the overall cabinet sizes are 4×2 inches. Each Tiny Arcade comes with the complete gameplay, full-color, hi-res screen, authentic game sounds, joystick and two control buttons in a backlit arcade style cabinet.
Every time I see this thing I am flooded with happy childhood memories of playing for hours at an arcade or at Pizza Hut and putting a bajillion quarters into it. No change needed for this tiny time hop! My kids think it is cool of course but my love for Pack Man will always be strong!
For even more retro throw back just check out their World's Smallest lineup. The World's Smallest Lite Brite lets you create tiny pictures….using pegs just like the original! Hasbro licensed, this is the CUTEST COOLEST Lite Brite you have EVER seen. Includes a light box, 200 colorful pegs and 10 design templates. This one I don't have to share with my brother as it is ALL MINE.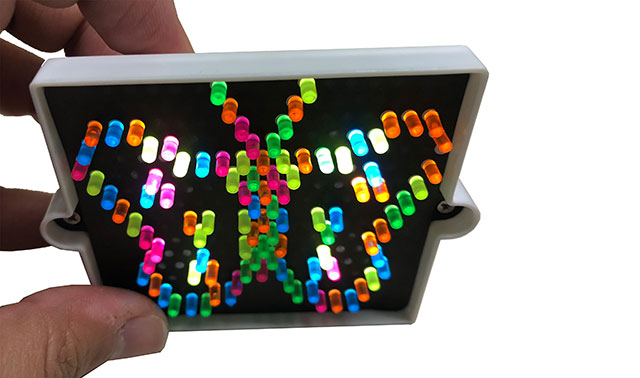 Don't let the image below fool you….these are the World's Smallest Care Bears. Your favorite group of colorful and caring bears just got a lot smaller! Spread some love or beat the bluest of blues with Cheer Bear, Funshine, Share Bear and Grumpy Bear.
Super Impulse also has tiny Hot Wheels and track sets as well as Fisher Price toys, tiny Crayola and many more! All these toys come at great price points which means they won't break the bank and kids can save up to buy them with their own spending money. I also think these make PERFECT sized stocking stuffers for the quickly approaching holiday season. They are a complete toy that just happens to be tiny so they are extra cute and easy to slip into stockings.
Connect: You can connect with Super Impulse on Facebook, Instagram and Twitter.