Welcome to our 2017 gift guide! We've compiled a list of some great gifts for your favorite people, to help you with your holiday shopping. Gift ideas for kids, teens and adults can be found right on this page to make shopping easier on you! We've received samples of some of the products featured, though opinions are always our own.
Girls ages 8 and up with go crazy over these fun makeup and nail kits from Pink Fizz! The Pink Fizz Sleepover Face Rescue Set – Moisturizing Facial Kit With Battery Operated Facial Brush has fun stickers, nail wraps and everything she'll need for a prefect manicure at home. Girls All-In-One Deluxe Makeup Glitter Palette With Mirror offers a small little kit of makeup to go, perfect stocking stuffer size and glam it up with the Girls All-In-One Mega Glam Beauty Binder- Kids Pretend Make Up and All-In-One Deluxe Makeup Palette With Mirror. Price: Prices vary starting around $10 and up.
Rated E for Everyone, Just Dance 2018 is geared towards kids ages 10+. 40 of the hottest songs come together in this epic dance party from favorite artists like Katy Perry, Bruno Mars, Beyoncé and more. Whether you're a pro or just getting started dancing, Just Dance 2018 is sure to be a blast and is at the top of wish lists this year! Price: $59.33
With Roland's GO:PIANO you can give the gift of music that will encourage a person for a lifetime! PERFECT for anyone who'd like to either make music or learn to play the keyboard with no prior training or experience. The GO:PIANO features 61 full-size piano-style keys, high-quality sound and an easy-to-use interface for beginners of any age. Includes Bluetooth connectivity for use with smartphones or tablets for watching instructional videos and playing with music apps. An education bundle that contains everything needed to get started, including a lesson book, built-in songs, and more! Price: $329 including an education bundle and sustain pedal
GIANTmicrobes are humorous and educational toy viruses, diseases, human body cells, and other tiny, yet adorable organisms in cuddly plush form. These GIANTmicrobes make a unique holiday gift or stocking stuffer for family, friends, teachers and co-workers this season. They offer an especially great collection of entertaining critters to use for White Elephant gifts such as Herpes, Scab and Crabs. These fun plushies include educational facts, so children and parents can explore and learn about some of the invisible life going on in our world today.  Price: Varies by size and variety
Sold in pairs, the nabi Compete makes fitness fun and engaging for kids through gamification, social features, and rewards. Cabi Compete also teaches kids about the concepts of calorie burning and distance through food and exploration challenges against friends and family. Select a distance goal and choose from a variety of real life challenges like the length of the Brooklyn Bridge or the National Mall Loop. Or choose a food goal and see who can burn off the calories of junk food. The nabi Compete app is available on both iOS and Android. Price: $39.99
For the first time, American Girl fans can add the exclusive American Girl 7" Tablet Powered by Nabi to their collection. Watch, Create and explore the world with over 70 videos, apps, and games featuring your favorite American Girl! Watch and learn from Z Crew's simple movie-making tips or learn how to make Tissue Blossom Flowers, a DIY guitar, and more with dozens of AG Crafts. The tablet comes with a berry colored bumper and has American Girl specific sound effects that will surprise and delight kids as they explore their tablet. All American Girl fans will want to add this tablet to their growing collection. Price: $79.99
Perfect for stuffing stockings and gifting, these Marvel themed durable water bottles from Nalgene are sure to be a hit with your favorite little Marvel Universe fan! Made in the USA with BPA-and BPS-free Tritan™ with hard-to-lose and easy-to-clean parts, these bottles are leakproof, dishwasher safe and offer a lifetime guarantee! With 5 designs to choose from including Thor, Captain America, Spider Man, Iron Man and Hulk, there is a character for everyone! Price: $12.99
The Shining Stars Projector puts a galaxy of stars in the palm of your hand! Young astronomers can explore early space science by beaming images of space onto any surface for a close-up view of stars, planets, and more! Just place the discs into the slot for quick and easy viewing. Includes 3 discs, with 8 images on each (24 images total) and features an easy-carry handle, automatic shut-off to conserve battery life, and a stand for projector mode. A great STEM gift to get little ones interested in stars! Price: $24.99
Grab your Nancy B's Science Club MoonScope™ & Sky Gazer's Activity Journal and take a tour of the nighttime sky complete with visits to the stars, Saturn, Jupiter, and even the mountain ranges and craters on the moon! The Sky Gazer's Journal is packed with fun activities, like learning about the lunar phases, writing a moon myth, drawing your own man in the moon, and more! Includes moon filter, two eyepieces (to provide 18x and 90x magnification) and a built-in, pre-aligned finder scope with glow-in-the-dark ring to make it easy to use. A fabulous STEM gift to get little ones interested in space! Price: $54.99
Winning Moves Games offers up family fun with classic board games for a wide variety of ages. The Rubik's Junior Bear is an easy-to-grip Bear that is much simpler than the original Rubik's Cube and will entertain kids with every twist and turn! Think of it as a "training" cube that makes a great stocking stuffer! Price: 12.95
HOOT! from SeaTurtle Sports is designed for spontaneous, unpredictable social gaming and fun for people of all ages. Its inspiration is a traditional team game called Egg Toss and a classic outdoor game, Scoop Ball. They took the best of both and added a new twist. The whole family will break out with laughter while playing. It's lightweight and portable, requires no assembly and can be played on any surface. There are a few different ways to play and earn points and the first team to reach 21 points wins the match. HOOT! is hours of fun for the whole family! Price: 39.95
RedwoodVentures has everything you need this holiday season.  IDO3D Print Shop enables your child to create any 3D object they desire or clone something they already own. The 3D Print Shop builds objects in just minutes using IDO3D 3D technology and "Formula 4D" system designed to form and then reform molds in any shape.  Smooshy Mushy are another product from RedwoodVentures that offer Bento Boxes, Frozen Treats and so much more.  They each come with their own Smooshy Mushy characters that you will fall in love with. Price: varies depending on product selected
Modarri is a modular mix-and-match building system that allows any of the 11 pieces to be interchanged with tons of different components.  Although you have several interchangeable components you don't have to worry about loosing the screws they are retained within the product. Your child can join pieces together by using the included swivel-tipped hex tool, and their cars can be built in just minutes.  Just think of all the possibilities. Price: varies
For Scooby-Doo lovers and fellow "meddling kids", Revell presents the Scooby-Doo Bi-Plane Snaptite Model Kit! This highly detailed bi-plan comes with three characters ready to fly (Scooby-Doo, Shaggy, & Velma)! It comes with 44 easy snaptite pieces with functional landing wheels and a spinning propeller.   This fun and bright model design is the prefect gift for your little creator ages six and up. Price: $22.99
Tuscan Hills offers an assortment of gift ideas that are perfect for that teen girl who is hard to shop for. You almost cant go wrong with beauty and skin care when it comes to girls so the Tuscan Hills 5 Piece Scented Body Butter Gift Set is a great choice with 5 body butters in scents she'll love. She'll appreciate how the Tuscan Hills 6 Piece Brush & Beauty Sponge Set can help her achieve that flawless make-up look that she craves. Price: $13.49 and $14.99 respectively
Most teen boys that I know love to game and Steep is taking the gamer's world by storm with the world's most epic mountains on skis, wingsuits, snowboards, and paragliders. This adventure game is sure to keep you on your toes and you can even capture your most insane stunts and share them with your friends via social media! Price: $27.99
My Beauty Spot has  a wonderful selection of gift ideas for that special teenage girl on your list. The 7 Piece Flavored Lip Gloss Set, 6 Piece Moisturizing Body Lotion Set and Soft Touch Pretty Feet & Toes 3 Piece Foot & Toe Care Set are just a few of my favorites. Their selection is pretty large so you'll surely find something perfect this holiday season! Their gifts make great stocking stuffers too! Price: $10.01, $14.99 and $14.99 respectively
When in doubt, fragrance is usually a good choice for gifts for teens. Most of them want to smell nice and fragrance likely isn't something that they would buy for themselves. You can't go wrong with these collections that smell great. The Beyonce Coffret 2pc Set – 1.0 oz Eau De Parfum x 2 (Heat Kissed, Heat Wild Orchid) offers lovely scents for girls, both of which I really enjoy. Nautica The Nautica Collection 3 Piece Gift Set for Men offers 3 different fragrances that will smell great on that teenage boy on your list. Both of mine love them! Price: $21.99 and $5.49 respectively
Destiny 2, one of the year's most anticipated video game titles, expands on the original award-winning first-person shooter (FPS) game and continues to offer a wide-variety of gameplay for teens and adults alike! Price: $74.99
This Holiday Season I want to give the gift of wellness to my family with the 21 Drops Natural Wellness Gift Set. It is filled with Essential Oils to help keep you feeling healthy and happy.  The kit comes with Detox, Headache, Passion, Immunity and Sleep. Price:  $50.00
Who says only kids can game? I know plenty of adults who are big time into gaming and Assassin's Creed is topping wish lists of people everywhere. It's a hit in my house full of guys and if you know a guy who games, it's likely on his list! packed full of quests and adventure, players will uncover the origin story of the Assassin's Brotherhood in this epic game. Price: $69.96
Desk Diary 2018 brings together a beautiful collection of wildflower illustrations, showcasing work held in the Royal Horticultural Society library's world-famous Lindley Library. Artists featured include Margaret Mary Plues, Lydia Penrose, Lilian Snelling and Maria Morris. This week-to-view diary is illustrated in color throughout and has a ribbon marker. Price: $21.99
Royal Horticultural Society FLORAL DESK ADDRESS BOOK  linen cloth covered with embossing and includes a ribbon marker. With color-coded alphabetical sections and beautiful floral images throughout from the world-famous RHS Lindley Library, this decorative address book makes the perfect gift. Price: $22.99

Flowers are so cliche and not quite an ideal gift during the holiday season. That's why I am loving Eternity Rose. They are actual roses that are glazed and trimmed with 24k gold. Available in a crafted display case, they are a breathtaking statement piece that is a beautiful display of your love for someone. It even comes with a certificate of authenticity! Price: $159
Call of Duty: WWII redefines World War II for a new generation of gamers through a a breathtaking experience. Battle across Europe in history's most monumental war after you land in Normandy on D-Day. it's an epic adventure that is topping many wish lists this holiday season. Price: $59.99 and free shipping
Brazil Bronze offers an assortment of products that provide a lovely sun-kissed glow, even in the winter. The Brazil Bronzer Holiday Bundle features 3 favorites including Anti-Aging Spray Tan Mist, Tanning Mouse and Quench–Spray Tan Moisturizer. What a perfect gift or stocking stuffer for your favorite lady! Price: $75
Tis the season for a good nights sleep.  Tanda's Complete Cool Pillow offers the most advanced and comfortable sleeping experience using ATROS cooling technology.  It is scientifically proven the cooler the environment the better the sleep.  The pillow pulls cool air from the room and transfers it to the body for an overall cooling sensation. Price: $75.00
Create a primitive place of your own where you can get away from it all. She Sheds A Room Of Your Own by Erika Kotite is a great way to get ideas on creating your own space. I believe that the the best things come in small packages. If you do to then this is the book for you. Price: $25
PortoVino Wine Purse lets you discreetly store and pour up to 2 bottles of wine (or 1.5L of your favorite beverage). The hidden reservoir pocket of this wine purse means no one will ever know that you're carrying a beverage inside. You will be able to keep everyone hydrated –  wine, mixed drinks, beer, water, tea or even juice for the kids and it will stay cool for hours.
Give the gift of a good night's sleep this holiday season with gift ideas from Protect-A-Bed.
The Snow Cooling Pillow with Shredded Memory Foam Fill offers ultimate nighttime comfort thanks to its premium support and temperature regulation. Price: $89.99
Nothing quite compares to fresh new sheets and whether they're for your guest room or your own, these Crisp Hypoallergenic Tencel® Lyocell Gray Sheets will help to make the bed cozy. They are smooth and hypoallergenic, perfect for anyone with sensitive skin. Price: $119.99–$194.99
If you're one of the many people who suffer from a stiff neck after sleeping all night, then the Zefiro Innerspring Memory Foam Pillow for Neck Pain might be just what you need. It ensures proper spine alignment with responsive comfort to alleviate neck pain, allowing you to rest easier and feel better in the morning. Price: $159.99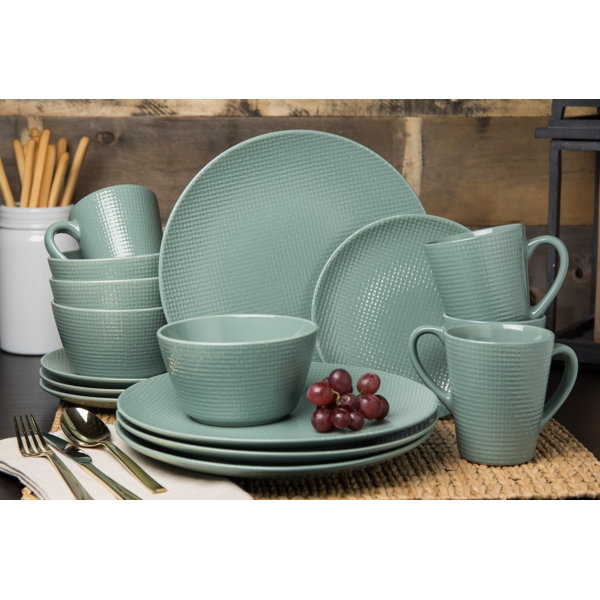 New dinnerware is always nice for the holidays, especially if you're hosting any gatherings. I'm in love with this stoneware Veneto 16 Piece Dinnerware Set, Service for 4, available at Wayfair. It's solid dinnerware that dishwasher and microwave safe, and such a pretty color! Price: $65.99
What a great way to show her you lover her by giving her the gift of sleep!  Mediflow's Floating Comfort Pillow is the only pillow clinically proven to improve the quality of sleep. Price: $49.99
Save