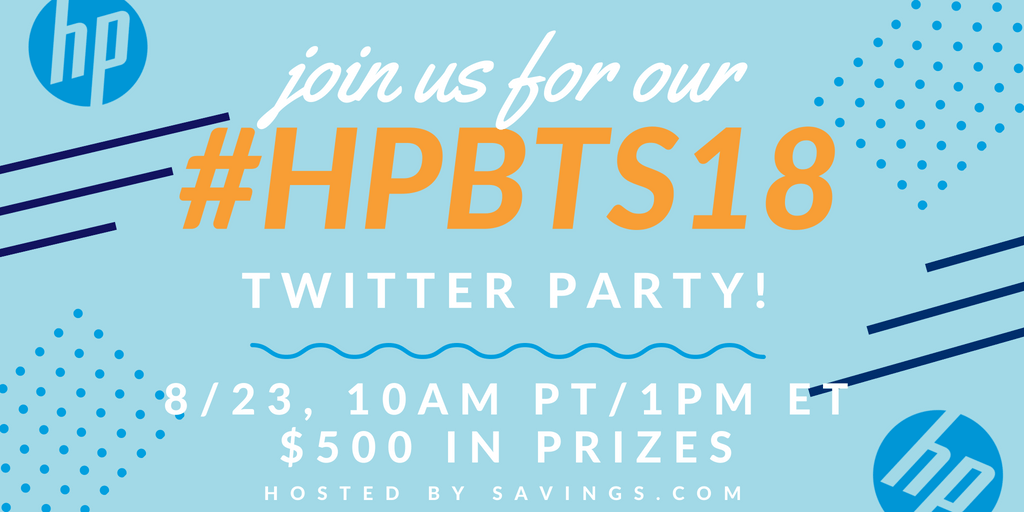 Join me on August 23, 2018, for a fabulous Twitter party. There will be prizes and fun conversations. The goal of this party is to let you all know of the great deals HP has for back to school technology needs. The deals from HP are something worth tweeting about. If you want to attend to join me for your chance to learn more about what HP can offer you for savings during back to school season, then here are the details:
Hashtag:?#HPBTS18
Date & Time: Thursday, August 23rd at 10AM PT/1PM ET until 11AM PT/2PM ET
Prizes:?(6) $25 gift cards from HP, (2) $50 gift cards from HP, (1) $100 gift card from HP, and (1)
$150 gift card from HP
RSVP: Click here to RSVP for this event.
Twitter parties are so much fun because not only do you have a chance to get prizes, but you engage in amazing conversations with new people. I am sure this will be a fun event and well worth an hour of your time on Thursday. I hope that you'll join me in discussing back to school, technology and the amazing deals from HP for this school season.