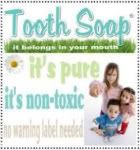 I am once again participating in Follow Friday hosted by One to Try, Hearts Make Families and Midday Escapades! I think it's a lot of fun to get out there and read new blogs, and of course have others stop by to see me!
this week they're mixing it up a bit with an awesome giveaway! THREE one hundred dollar cash prizes up for grabs from Toothsoap.com as a thank you for your Friday Follow participation! Click the Friday Follow image above to find out more about the contest and how to enter.
If you're stopping by from Friday Follow, make sure you check out some of the amazing Leap into Spring giveaways going on right now! You'll find links to each and every giveaway on the right hand sidebar. Good luck everyone!
If you're here for the first time, you might want to find out all about me or read about my journey as a Frigidaire Test Drive Mom.